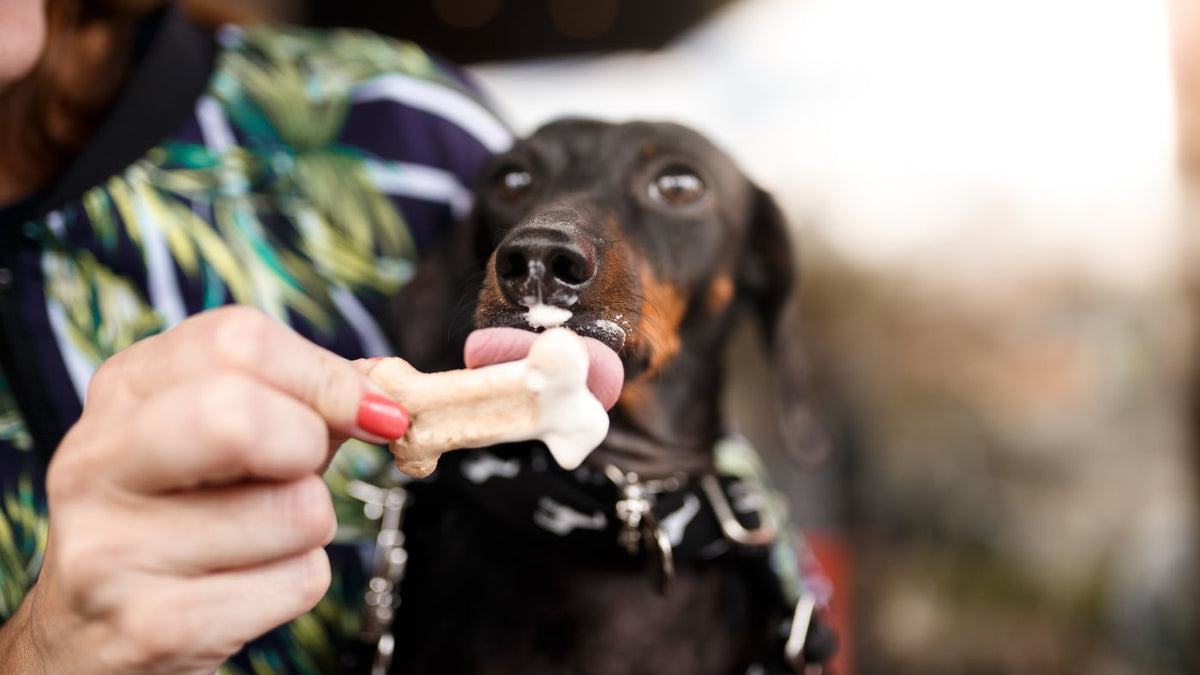 How Can I Find a Dog Treat Icing or Frosting Recipe that Dries Hard?
I receive a lot of questions about how to create a homemade dog treat icing recipe that dries hard. Even though I tell bakers how to use yogurt mixed with peanut butter, they still want a dog icing recipe that dries hard without refrigeration.

Honestly, our dog treat frosting recipes contain high quality, all natural ingredients that are... expensive. I am able to offer my premixed icing at a lower price because I purchase all the ingredients in bulk. So, if you were to purchase the ingredients that I use, you would actually end up paying more per pound than what I sell it for. And... I even lower the price per pound based on the quantity that you purchase. 

Here are some common questions that I can answer for you regarding our dog treat icing and frosting mixes. 
Do you sell your dog treat icing that dries hard in bulk quantities?
Yes, we do sell over 200 pounds of our products at one time, for ordering access and pricing you can apply by going to: www.pastries4petswholesale.com
If you prefer to order our wholesale dog treat icing products below 25 pounds you can order any time without registering at: www.pastries4pet.com 

Both websites offer our all natural healthy dog bakery ingredient products at wholesale prices. The prices are based on the quantity that you order, the more you order the less you pay per pound. 

Be sure you order what you will use during a 4 - 6 month time period, all of our treat icings and frostings come with expiration dates and should be stored in a cool, dark location.
Can your dog treat icing be used to add details to decorated dog treats?
Yes, our icing is very user friendly, just add a little less water to make it thicker to create any design you wish. 

For best results, let your background or base color dry for a couple of hours prior to adding your embellishments or details on top. You can also "swirl" colors while they are wet to achieve a wet on wet technique. After you complete your cookie design, let the treat dry overnight or to the time length found on the package label. 

Please note, each of our dog treat icing recipes dry hard at different time frames. They all need to air dry in a warm or room temperature environment. Be sure to not put wet treats in the refrigerator or freezer because the moisture inside will prevent your icing or frosting from drying hard. You can refrigerate them after the icing or frosting dries hard but you do not have too. 

The important step is to have fun and let your imagination take over! 
Does your dog icing fall off dehydrated dog treats?
No, our details don't either, the icing will not even crack or melt on wheat or grain free treats. 

For best results, dehydrate your dog treats, let them cool, decorate them and let them air dry. 
PRO TIP: When applying details on top, be sure the icing or frosting is not too thick; if you need to press it on top off your dog biscuit as it curls out of your decorating bag or bottle, it will fall off after it dries. So, if your icing or frosting curls up when you are decorating… add a tiny bit of water, stir and try again.
Does your dog treat icing dry hard?
Yes, our "normal" icing AIR dries between 12-24 hours. Do not refrigerate or freeze any of our icing or frosting products until they are completely dry.

Our Rockin' Hard air dries hard between 6-12 hours. And our Grain Free Icing takes a lot longer to air dry. Be sure to take a peek at each products' drying times prior to using so you will have enough time to let them completely dry before you sell your dog treats or package them.
Does your dog cake frosting apply like human frosting?
Yes, you can frost any dog cake and create designs. Just add less water if you need the frosting to set thicker, like a swirl on top of a cupcake.

Here is a helpful video for you to watch to see how to decorate a cupcake for a dog using one of our dog cake frosting recipes and how to create a cupcake swirl on top:
Can I ship decorated dog treats?
Yes, be sure the icing is completely dry. Most of our customers that ship decorated treats use our Rockin' Hard icing and frosting because it dries extremely hard. A great grain free icing and frosting product that dries fairly quick and ships well is our Royal Blend Icing and frosting products.

The key to shipping dog treats is to be sure your dog treats are shelf stable and you use dog treat icing that hardens. Avoid shipping treats that are frozen because they will thaw or defrost during their journey and cause the icing to become wet again creating a sticky mess.
PRO TIP: Pack you treats tightly so they do not move inside the mailing package or box. Do not rely on using a "fragile sticker" because most packages are transported and moved from buildings and trucks a lot during their journey. It's a great idea to ship to yourself or to a friend prior to shipping them to customer. This way you can be sure they are packed well.
What is the difference between melting and moisture?
When we say our icing does not melt, it does not… A lot of customers get moisture confused with heat… 

For example: If you use our "normal" dog treat icing, let it air dry completely, then refrigerate it, the moisture/coldness from the refrigerator will make the icing tacky again… same with humidity, as humidity does cause moisture. The moisture from the refrigerator or from a humid climate can cause the icing to stick to its packaging, which is why we want to talk about this type of wetness. 

The fix? Don't refrigerate your dog treats. If you have to refrigerate them, let the icing or frosting air dry again after… Or use our Rockin' Hard products, they hold up extremely well.

 
What is the difference between Pastries 4 Pets' "normal" dog icing and Rockin Hard Icing?
Our "normal" dog treat icing recipe dries smoother and takes 12-24 hours to dry and becomes slightly tacky in moist, cold or humid climates. For best results, apply on dehydrated dog treats that don't need refrigeration.
 
Rockin' Hard dog icing dries a bit bumpy because it is thicker. It is a matte finish but does not become tacky in any climate. It AIR dries in @ 6-12 hours.
What is the difference between your icing and frosting?
The frosting is thicker and formulated to act like "human" frosting. This is for both types… "normal" and Rockin' Hard Icing.

We have a helpful saying… "Ice a cookie, Frost a cake".  If you try to use icing to create a doggy cupcake swirl, it won't keep it's shape but if you use the dog cake frosting, it will keep it's shape.
Are your products bright white?
No, because we do not add any additional ingredients to create a whitening effect. That is your choice, you can add white food color if you want the bright white appearance. 

Our products are off white, most customers do not notice… and our furry consumers love them regardless! 
Dog treat icing that dries hard
All of our dog treat icing recipes dry hard without refrigeration. The best way to choose the perfect one for you is to match it with your current dog treat recipes. 

If you bake grain free dog treats then choose any one of our grain free dog icing recipes to keep your treats truly grain free.

The same goes for your wheat free recipes, choose any of our icings or frostings to keep your treats wheat free. Actually, all of our dog bakery ingredients are wheat free so that makes it easy!

Be sure to order small and take notes to find your perfect dog treat decorating icing and frosting!